Freestyle football is a street subculture that has become a popular sports discipline all over the world. The essence of football freestyle is to perform tricks with a soccer ball using different parts of the body.
History
The roots of football freestyle go back to the distant past. Its progenitors can be called such ancient Asian games as chinlon and jianzi, which are more than 1500 years old. For example, Chinlon is a traditional and distinctive sport of Burma (modern Myanmar), which was once played only by representatives of royal families. This ball game is a mixture of sport and dance. The meaning of chinlon is in the beauty of each participant's play, and many tricks and ball strikes were intertwined with elements of Burmese dances and martial arts.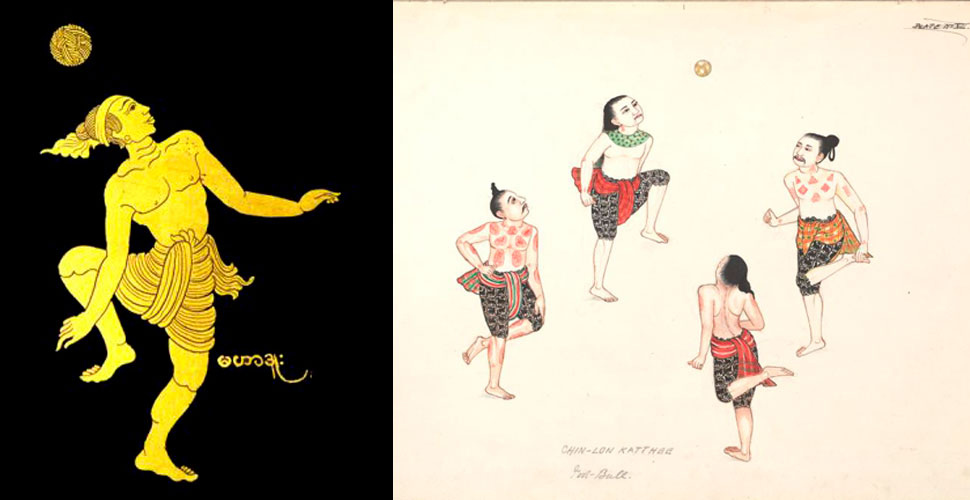 It is believed that football freestyle originated in the circus. In the 1920s, the Italian circus artist Enrico Rastelli became famous for his incredible juggling skills with various objects, including balls. In addition, already at that time, he performed a variety of ball tricks while playing big football.
Enrico Rastelli (1896 – 1931)
After World War II, Rastelli's legacy was continued by the German juggler Francis Brunn . It was the German who was the first to perform the "Around The World" (ATW, Around the World) trick, which is so popular today among football fans and is a basic trick in football freestyle.
Francis Brunn (1922 – 2004)
With the development of television and the rise in popularity of big football, ball tricks have become increasingly practiced by professional footballers. A truly iconic figure that can be safely introduced into the history of freestyle is the football player Diego Armando Maradona . Thanks to his talent, the star Argentinian was rightfully considered the real magician of the ball of his time.
Diego Maradona (1960 – 2020)
Korean Hee-Young Woo aka Mr. Woo is considered to be the first professional freestyler. After retiring as a football player (played in Korea and Germany for the football club Stuttgart Kickers), Mr. Woo, inspired by Diego Maradona's talent and incredible ball control, decided to become the most famous football artist in the world. In 1989, he entered the Guinness Book of Records after holding the ball on his head for 5 hours 06 minutes and 30 seconds.
Since 1988, he has demonstrated his ball handling skills at numerous sporting events, including: the official opening ceremony of the 1988 Summer Olympics in Seoul, the German Cup finals, English Premier League matches, the 1990 FIFA World Cup in Italy and 1994 in the USA. In 2002, he was the official ambassador for the FIFA World Cup held in his native South Korea, featured in a Nike "Stickman" commercial with Ronaldinho, and more.
Mr. Woo
Modern Football Freestyle
Modern football freestyle is a fairly young sport. It began its development in the early 2000s. The impetus for this was the video of Soufiane Tuzani aka 2zani from Rotterdam, published in 2002. In it, he did not perform individual tricks, but small combinations, the so-called combos. This video blew up the internet and gave a fresh perspective on soccer ball tricks.
Soufiane Tuzani
In 2003, the first world championship in football freestyle Masters of the Game World Freestyle Championship 2003 was held in Amsterdam.
2006 was a landmark year in the development of football freestyle and the formation of the most difficult of its disciplines – AirMoves. A video of the Swedish freestyler Ricard Sjolander aka Palle has appeared online with incredible combinations that no one has seen or done before. The Swede has become a real living icon and forever inscribed his name in the history of football freestyle.
Also, Palle became the first freestyler in the world to do the three-turn trick, which now bears his name "Palle Around The World (PATW)".
Palle Around The World
In the mid-2000s, Nike launched the legendary Joga Bonito ad campaign. Nike has pushed freestyle to the masses with this series of commercials featuring all-star footballers showing how to play beautifully, popularizing spectacular stunts and feints as part of a footballer's essential arsenal.
Since 2006, football freestyle has begun a new round of development thanks to the holding of regular tournaments and championships, both national and international. Among the most famous are: MotG World Championship 2006, Eurobac 2007, Red Bull Reaccion 2007, Komball 2008, Red Bull Street Style, Super Ball, Freestyle Masters, etc.
In any sport, there are those who stood at the origins of development and contributed to the popularization of sports. Freestyle is no exception. Among the most famous names of the first wave, on whose videos thousands of new freestylers have grown up around the world: Soufiane Touzani (Holland), Rickard "Palle" Sjolander (Sweden), Hoai "NamTheMan" Nguyen (Ireland), Daniel Roseboom (Holland), John Farnworth (UK), Steve Elias (Canada) Billy Wingrow and Jeremy Linch (UK), Tatsulow (Japan), Abbas Farid (Wales), Nelson de Kok (Holland), Abdullah Belabbas (Holland), Sean Garnier (France), Nejad Brajic (Bosnia), Pawel Skora (Poland), Suru Tamasz (Hungary), Szymon Skalski (Poland), Anders Solum (Norway), etc.
Today, football freestyle, due to its popularity and availability, is not just entertainment, but a generally recognized mass movement. He quickly found his admirers and quickly gained popularity all over the world. It is a dynamic and spectacular sport. The concept and philosophy of which are aimed at promoting a healthy and active lifestyle, as well as developing a new progressive culture among representatives of all generations, and especially young people.
What about the future? If you are reading this, then you are interested in freestyle and the future is yours! Now it's your turn to make history!